Filter by Category
Homeschool
Homeschool Musical Production

Oct 6, 2023 at 10 am

, runs for 27 weeks
Back by popular demand and now accepting 8 - 16 year olds!
We're putting on a musical, to be performed in June! The title has yet to be determined – we'll choose just the right script to match our group of young performers. Through our performance preparation, we'll learn acting, singing and dancing skills and gain confidence while working as an ensemble to tell a great story!
Musical Production is a full year class co-taught by an incredible acting coach/director and vocal coach/musical director team. The class runs weekly on Fridays from 10:00am-12:00pm from 10/6/23 - 6/7/24. The students will have two performances. One on 6/7 at 7:30pm and one on 6/8 at 2:30pm
No Class on 10/20, 11/10, 11/24, 12/22, 12/29, 2/16, 2/23, 4/12, and 5/24
Payment plan available: $35 deposit plus 8 payments of $68.33, paid every four weeks. Final payment of $68.36.
Will run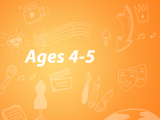 Dramatic Adventures

Oct 6, 2023 at 10:30 am

, runs for 8 weeks
For Ages 4-5
Come play, create and imagine. Go on thrilling adventures every week! Students use their imaginations to travel to a different world, meet different characters, find problems and create their own solutions. Through art, games and storytelling we will learn to work together and collaborate We'll learn the confidence needed to be in front of an audience and beginning theater skills.
No class on 10/20, 11/10, & 11/24
Wacky One Act

Oct 6, 2023 at 10:30 am

, runs for 8 weeks
For Ages 6-8
Starting from scratch, we'll use our imaginations to create a spectacular story - anything goes! Then we'll put our story on stage, creating wacky new characters and the set and costumes to bring them to life. We'll work together to become writers, directors, actors, and designers, and finally present our creation to friends and family!
No class on 10/20, 11/10, & 11/24