Filter by Category
Workshops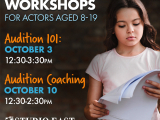 Audition 101 Workshop

Oct 3, 2021 at 12:30 pm
For Ages 8-19
Perfect for first time auditioners, students will learn all about the audition process including what a director is looking for and how to select a monologue and song in this 3-hour workshop. You will leave this workshop with all of the materials and knowledge for your next audition. This is a great workshop if you are planning to audition for our Winter show "The Best Christmas Pageant Ever" This workshop will teach your students how to prepare for an acting audition, musical audition, and callback. Sign up for "Audition Coaching", happening the following weekend, if you'd like 30 minutes of private coaching on your audition.
Will run
Audition Coaching

Oct 10, 2021 at 5:30 pm
For ages 8 -19
Get 30 minutes of private coaching on your upcoming audition. You will work with a monologue coach for 15 minutes and a vocal coach for 15 minutes. You will be assigned a 30-minute time between the window of 5:30pm & 7:30pm after you enroll for the coaching session. Students must come to the coaching with audition pieces memorized and with sheet music for the vocal coach.
Alternatively, if you'd like a full 30 minutes of work on your monologue, the vocal coach can spend their 15 minutes on monologue work as well.